The recent rise of low-code platforms has fueled a movement emphasizing citizen developers. Within this trend, non-IT employees are given the tools needed to create apps quickly through visual interfaces, alleviating the work burden placed on app teams. Because of all this, there is a growing sense that low-code application development platforms aren't really for developers. This is a misconception that oversimplifies how app platforms impact the enterprise. Instead of marginalizing developers, low-code platforms empower programmers to focus on the most important tasks before them instead of having to spend most of their time writing code for basic mobile apps.
Low-code platforms have a great deal to offer enterprise developers, particularly as the demand for mobile apps increases at a breakneck pace. Three of the most notable benefits are:
"Spreading out the development burden with low-code platforms eases the workload across programming teams."
1. Letting Developers Focus on Core Competencies
The development industry is facing a skills shortage in light of the rising demand for mobile apps. Forrester reported that low-code platforms offer the potential to alleviate some of this burden. Adopting low-code solutions enables organizations to delegate app creation and avoid falling prey to the skills gap. This issue has become acute to the point that approximately 86 percent of businesses responding to an Indeed survey said they have a difficult time finding the technical talent they need to fill job roles. Because of this, 83 percent of those polled said they are struggling to innovate, creating revenue losses and similar business challenges because there isn't enough staff available to create the solutions today's enterprise users need.
Low-code platforms can either delegate development or allow programmers to build out core app functionality quickly. An app development platform can:
Streamline backend data workflow management

Accelerate release and operations processes surrounding an app

Make it easier to get a solution off the ground with built-in functionality
These capabilities come together to empower programmers to spend more time on their core competencies of writing code to solve end-user problems instead of having to focus on related or even tangential tasks involved in custom app development and release processes. Furthermore, a development staffing shortage can lead to programmers being pushed into specializations that don't naturally match their skill sets. Spreading out the development burden with low-code platforms eases the workload across programming teams, leading to more resources for developers to focus on their primary competencies.
2. Establishing Better Business-IT Collaboration
Ensuring applications actually align with business needs can prove particularly problematic for development teams. Many programmers spend most of their time in the back office, with only snippets of information and insight into what enterprise teams actually need. They often have a spec list, maybe a couple of meetings and some raw data to work with. From there, they need to design an app that meets business needs and make sure the solution fits naturally within end-user workflows. It's a daunting task, but it gets easier when business users get involved in mobile app development.
Low-code platforms don't just allow citizen developers to contribute to projects, they also create a foundation for collaboration within those efforts. Because of this, business and tech users can work hand in hand to identify the best solutions for operational problems. In many cases, this will not only set a foundation for more focused and valuable apps, it will also break many of the cultural barriers that have long existed between business and IT teams, allowing for a stronger organizational awareness around the relationship between technology and profits.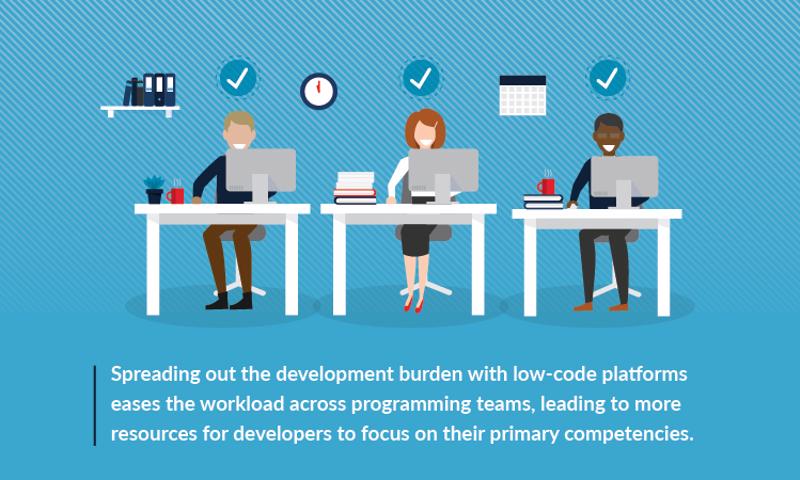 3. Creating More Time for Innovative Tasks
Professional developers often spend the vast majority of their time creating baseline code for apps, leaving them unable to really focus on the complex, rewarding programming tasks that can prove more fulfilling. This is especially true in the age of mobile development, where solutions need to be coded to work on different device interfaces and operating systems. Much of the development work involved in these processes can be rote and tedious, distracting developers from the kind of creative, problem-solving types of tasks that make the job enjoyable.
Low-code platforms rebalance this situation. They simplify and streamline many of the underlying development tasks involved in app creation by using pre-built modules of code alongside drag-and-drop interfaces or similar methodologies to establish core app functionality. Because of this, developers can identify core project specs and lay out the solution accordingly. From there, they are free to think about the best possible ways to get the job done and create custom code around those capabilities. This frees developers to get creative and solve problems through fresh code that drives innovation.
For a long time, IT teams have had to set innovation aside in favor of maintenance and management. The cultural issue here extends to development team members, who are constantly tasked with writing code to optimize apps relative to operating system updates or changes to the production configuration. These types of tasks are all handled more intuitively within a low-code app development platform, erasing tedium and freeing resources for innovation.
A New Paradigm for Programmers
Many professional developers share a common overarching story within their careers. They get into programming because of some kind of technology that impressed or inspired them, work on creative projects during their education and internships, then get into the professional realm and spend most of their time on maintenance and basic apps that can be tedious. There are often a few exciting projects interspersed, but the tales of developer burnout are plentiful in the enterprise. Low-code platforms change this narrative by freeing developers from having to devote significant amounts of time to basic programming tasks, letting them put their full skills and creativity to work.